NEW CLASS! VIRTUAL PIANO SESSIONS - FIRST ONE FREE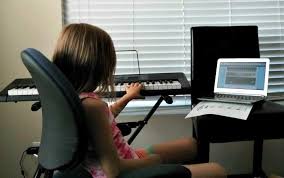 Our virtual Group Sessions are now expanding into Keyboards!!
ONLY THREE OPEN SPOTS!!!
FREE FIRST SESSION!!!  then we are offering buy three get one free!! (that's only $10.50 per session!!) normal price is $14.
Expert piano teacher and interactive class rhythm through two-way video technology. Log in, sync up, and learn piano online with your peers.  Expert Teachers. Feed Your Curiosity.  Engage with Classmates. Improve Your Skills.
We meet virtual and will teach you from the beginning or work with you if you're advancing!

Have some fun! Meet new friends!

Our teacher is Ryan Parmenter!
Listen to Ryan play here:  https://www.youtube.com/watch?v=7R-sTaLBW0Y&feature=emb_logo
Ryan is a pianist, singer, songwriter, and composer whose talents have been heard on stages such as the Lakewood cultural center, The Joslyn Art Museum, and many coffee shops and university campuses.
Ryan Parmenter teaches beginner and intermediate Piano and Songwriting. Because of music's impact on his life, Ryan loves inspiring people to pursue the joy of music. He's been playing, performing, teaching, writing for and competing in piano for 16+ years. Well versed in classical piano, he also specializes in jazz piano, songwriting/composition, and music theory.
His award winning piano playing can be found on his upcoming EP, "Mind Sound" Ryan has scored music for films and was an assistant to Emmy award winning composer, Charles Denler, during the scoring of an Arnold Schwarzenegger (sp) film.