HUGE RED TAG SALE - HUNDREDS OF UNIQUE ITEMS!!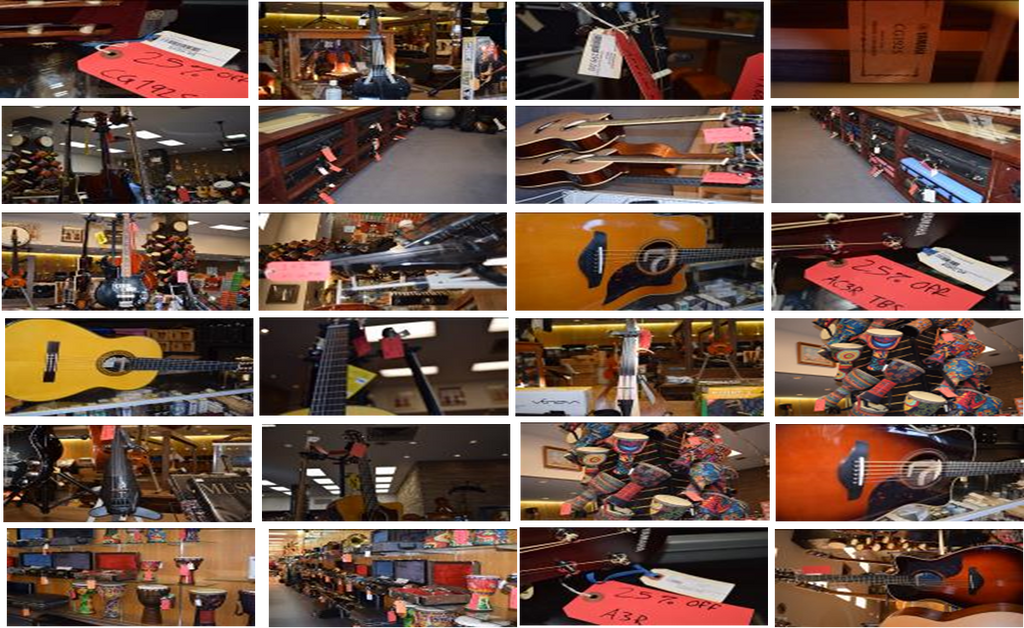 HUGE DISCOUNTS Unique Items Ready for you!
Red Tag Items:
Yamaha Electric Violin YEV 104NAT
Mark Wood Electric Violin WAV4
NS Electric Violin Wav4
Yamaha Nylon String Guitars CG172S
Yamaha Nylon String CG192S
Hundreds of Djembes and Doumbeks
Hundreds of Ukes Marked Down!!
Yamaha A3R Guitar
Daisy Rock Electric Guitar 17030334
Daisy Rock Electric Guitar Elite
Yamaha Acoustic Electric APX600
Yamaha Acoustic Electric Vintage Natural AC3R
Yamaha RS420 Blueburst
Yamaha Pacifico Electric Bass
Bowed Instrument Cases marked down
NEW ON THE FLOOR
- our Spanish Guitar Line: Raimundo, Camps, freshly setup from our workshop.
HOW ABOUT A MUSICAL INSTRUMENT RENT-TO-OWN AND LESSONS FOR A CHRISTMAS GIFT - GIVE THE GIFT OF MUSIC!!
RENT-TO-OWN FOR ONLY $17.95 A MONTH
(flute, clarinet, trumpet, percussion, trombone $22.95)
get LESSONS FOR FREE!!!*
FREE GROUP STARTER VIRTUAL LESSON AND FREE PRIVATE VIRTUAL LESSON WITH EVERY NEW band or orchestra instrument RENTAL!
FREE guitar and piano LESSONS WITH EVERY guitar and piano INSTRUMENT PURCHASE OVER $100!!!
Lessons are available Monday through Saturday, and scheduled once a week.  Most beginners take a 30 minute lesson
GOLDEN MUSIC - goldenmusic.co - goldenmusicexperience.com
303-279-1111 10395 W Colfax Ave, Lakewood, CO  80215