Nine Violin Gifts That Really Pop!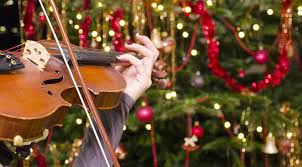 Searching for gifts for a violinist? Here's nine that really pop:
VIOLIN GIFTS #1 - UPGRADE THAT VIOLIN!
Is your violinist struggling with a low priced internet violin? We have "apprentice" and "master" level instruments starting from just $25 a month in our rent-to-own program!
VIOLIN GIFTS #2 – MUSIC STAND
I've done my fair share of propping up sheet music against stacks of books or inside a desk drawer. Once I got one of these foldable stands, I thought, oh my gosh… why didn't I get one of these sooner?? Such a simple tool, but it totally changes the comfort of playing from a sheet of music. Adjusts from sitting to standing. Learning violin can be frustrating at times, so you might as well not have to worry about catching a book as it goes sliding off your desk. The little carrying bag is convenient and the different colors are fun for gift giving. If you're brainstorming gifts for violinists, this should definitely be on the list!
We have several types and kinds to fit any budget!
VIOLIN GIFTS #3 – TUNER
I'm offering two ideas for tuners, basic or fancy:
Basic: Snark - Clips onto the scroll so you can tune even with background noise at all the fancy gigs you'll be booking. It's fine for getting the strings generally in tune for fiddle music, but not as accurate or versatile as the Korg Orchestral Tuner - This is a super-advanced tuner with settings for different "temperaments," or systems of intonation, that are available on violin. If you ever want to use a tuner to test your intonation on scales or double stops, a fancy tuner like this is a must. Relying on your ear is best, but these are still fun and enlightening to play with.
VIOLIN GIFTS #4 – BERNADEL ROSIN
My favorite stuff for smooth playing! And it comes in a fancy velvety pouch! We have dozens of other rosins to choose from also!
VIOLIN GIFTS #5 – STRINGS
Basic: D'Addario Helicore - Clear, bright, and great for fiddle playing styles.
Fancy: Dominant Thomastick - Oooh la la, the luxury…
VIOLIN GIFTS #6 – ELECTRIFY WITH A FISHMAN BRIDGE PICKUP
This pickup will turn any acoustic violin into an acoustic/electric with very natural sound. Great for the violinist on your list who wants to start performing soon. Must be installed by a trusted violin luthier.
VIOLIN GIFTS #7 – SUZUKI BOOK 1 WITH CD
The meat and potatoes of every violinist learning. The listening complements the study.
VIOLIN GIFTS #8 – UPGRADE YOUR BOW
From a well balanced carbon fiber to a German made pernambuco hand carved bow, every violinist appreciates the new sound and tone they can make when their bow is a step-up!
VIOLIN GIFTS #9 - PRIVATE LESSONS
Starting at just $30-$35 a half hour, buy them a gift certificate to get that one on one support that will launch their playing to the next level.