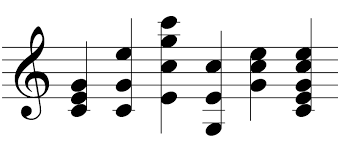 Merrium Webter's definition of a Chord is three or more musical tones sounded simultaneously.  Let's talk about this some more.  Here are a few chords: 
Only two notes is considered an interval.
 The relationship between the notes is often described as consonance: smooth, pleasant, agreeable,  or dissonance:  rough, discordant, unpleasant, disagreeable.  Sounds like subjective judgments doesn't it?   It's from our Western European music culture's definition, but deeper than that is the harmonic overtones present in a single note.   A single note musical sounding note has these overtones, whereas something that sounds more like a noise doesn't have the overtones.
What is the Overtone Series?
The term overtone series refers to the harmonic partials (to distinguish between overtone, partial and harmonic, see below). There are also sounds with inharmonic overtones. The more inharmonic overtones a sound contains, the more it acquires the character of a noise.
This is a picture of the vibration wave form.
 CONCLUSION:
Our sense of consonance and a chord comes from the lowest six tones of the series.  There are three C's, one E and two G's in these tones.  
So in our common Western music culture, the most common Chord is the triad of C E G.  Of course this can be built on any note of the scale.