The term Composition - used for music exclusively... - Top 12 Film Composers of our Century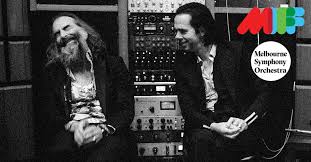 Per Groves Dictionary, Composition is a term which literally means a "putting together", is now almost exclusively applied to the invention of music -- a novelist or a poet being not spoken of as a composer except by way of analogy, but a producer of music being almost invariably designated by that title.   Groves continues "It is the fruit sometimes of concentration and sometimes of accident; it can hardly be forced with success, though very ingenious imitations of other people's ideas to be made to look like new may be arrived at by practice and the habitual study of existing music.  Nevertheless...  the title of composer is an honorable one."
The Top 12 Composers of the 21st Century, From Hans Zimmer to Nick Cave
A compilation of the most talented composers in film today.
In an age where special effects reign supreme, there's one aspect of the filmmaking process that hasn't gone through a radical transformation — music. Some of the best movies in any given year would be sorely lacking without their memorable scores, and this has remained true well into the first two decades of the 21st century.
Film composers play an integral part in the filmmaking process, and there are a handful whose bodies of work stand out in recent years. Of course, this list of 12 major composers only begins to scratch the surface of the talent out there. There are plenty of other worthy contributors to the medium who didn't make the cut — Danny Elfman and John Williams, we're looking at you — but rest assured that this top dozen represent the cream of the crop.
Hans Zimmer
You'd be hard-pressed to find a notable franchise or series from the last few years that doesn't have Zimmer's fingerprints on it. His most recent work includes Christopher Nolan's "Dunkirk," "Planet Earth II," and the upcoming "Blade Runner 2049." Zimmer has scored over 100 films and gone on to win 111 awards for his work, including an Oscar for best music and original score for Disney's "The Lion King" in 1995.
Zimmer's signature style is minimalist with a dramatic edge. He has a knack for creating intense, jarring scores that simmer before they erupt with grand gestures, but he does it using basic riffs that don't overwhelm the film as a whole. It's the best example of less is more. Other famous films scored by Zimmer include "Interstellar," "Inception," "Gladiator," the "Pirates of the Caribbean" series, and Nolan's "Dark Knight" trilogy — three of which earned him Oscar nominations.
Klaus Badelt
Klaus Badelt may be known for his collaborations with fellow German composer Zimmer, but he's a genius in his own right. Best known for his work on "Pirates of the Caribbean: Curse of the Black Pearl," Badelt has a knack for producing heart-pumping scores that make you feel like the audience is a part of the film's emotional arc.
Badelt has been credited on over 80 films, including Oscar-nominated scores such as Ridley Scott's "Gladiator," which he shared with Zimmer and Lisa Gerrard, and Terrence Malick's "The Thin Red Line." The most notable aspect of Badelt's work is his use of string instruments, whether they're used to build the tension, note a particularly sinister moment in the film, or accompany a romantic embrace between characters. The composer's upcoming projects include "Wish" and "No Way Jose!"
Alexandre Desplat
It would be a crime to exclude Alexandre Desplat from a survey of the top composers working today, because nobody seems to be working harder than him. The 55-year-old has become one of the most successful and most recognizable composers in the industry, and shows no signs of letting up. Credited for scoring films such as "Harry Potter and the Deathly Hallows," "Zero Dark Thirty," "Argo," and the 2014 remake of "Godzilla," Desplat is also one of the most versatile composers working today.
Desplat has been nominated for 185 awards, eight of which were Oscar nominations, and has won over 70. He went on to win an Oscar for best original score for his work on Wes Anderson's "The Grand Budapest Hotel" as well as a BAFTA. His most endearing quality is his ability to take risks and jump from one genre to another — his ability to seamlessly transition from the heavy horns and strings in "Godzilla" to the soft plucking of guitar and xylophone in "The Fantastic Mr. Fox" is just one example of his incredible range. Desplat's scores enhance the whimsy of a Wes Anderson movie just as much as they can life the sense of awe in a sci-fi blockbuster. His upcoming projects include Wes Anderson's "Isle of Dogs" and Guillermo del Toro's "The Shape of Water."
Marco Beltrami
Best known for building tension through music, Marco Beltrami is a master of suspense on par with some of the great genre directors. His nearly 120 credits as a composer showcase a style involving heavy percussion and layering paired with the use of brass instruments and violin.
Beltrami is responsible for scoring a range of tense movies large and small, including Wes Craven's "Scream" series, "I, Robot," "The Hurt Locker," "World War Z," and "Logan." He's snagged two Oscar nominations for his work on "3:10 to Yuma" and "The Hurt Locker," and won 15 awards for films including "The Wolverine" and "The Woman in Black."
Ryuichi Sakamoto
Sakamoto is responsible for some of the most beautiful scores of the 21st century. Apart from his soft atmospheric style and piano melodies, Sakamoto is considered an electronic music pioneer. His ability to blend different musical traits from varying cultures and genres makes him stand out, but his most notable recent work was on Alejandro G. Iñárritu's "The Revenant," which earned him a Golden Globe and BAFTA nomination alongside Alva Noto. Other films scored by Sakamoto include "Babel," Black Rain," and "Appleseed."
Nick Cave and Warren Ellis
With a combined total of 17 awards and 47 nominations, these recurring collaborators are as successful on their own as they are together. Cave and Ellis are western heroes on par with ones whose journeys they score, crafting music that allows viewers to relate to the characters on screen, even if they're not used to hanging out in a nineteenth-century saloon. One of the great achievements from their score for "The Assassination of Jesse James by the Coward Robert Ford" is creating a soundtrack that can be energizing at one moment and melancholic the next. Cave and Ellis have collaborated on meaty western productions such as "Hell or High Water" and "The Proposition," both of which scored the duo award nominations and wins. But their most recent music credit is on the Netflix-produced drama "War Machine," providing that they aren't boxed into a single genre.
Javier Navarrete
If you're looking to score a mythical monster movie, Javier Navarrete is the first person to call. Best known for his work on Guillermo del Toro's "Pan's Labyrinth," Navarrete delivers catchy melodies that will resonate with audiences long after they've left the theater (just try and get that "Pan's" lullaby out of your head).
Navarrete's decision to blend soft humming and music box melodies in scores like "Pan's Labyrinth" adds depth to his films and a pervasive sense that not all things are what they seem. His style is eerie and charming at once, and the combo hasn't gone unrecognized. "Pan's Labyrinth" earned Navarrete an Oscar nomination for his score, and later he went on to win an Emmy for his work on the WWII drama "Hemingway and Gellhorn." Other films scored by Navarrete include "Wrath of the Titans," "Mirrors," "Inkheart," and Del Toro's "The Devil's Backbone."
Jonny Greenwood
Jonny Greenwood is a man of many hats, and luckily for us one of them is composing for TV and film. The Radiohead musician has found a robust second career composing for both film and television that capitalizes on his command of multiple instruments.
Greenwood's use of tracked themes and pre-existing music mixed with fresh orchestral sounds always makes his work a thrill, irrespective of the movie he's working on. While the most famous example is his vibrant, unnerving compositions for Paul Thomas Anderson's "There Will Be Blood," "The Master," and "Inherent Vice," he's also responsible for the creepy score for Lynn Ramsay's "We Need to Talk About Kevin" and her upcoming surrealist crime caper "You Were Never Really Here."
Lesley Barber
Canadian composer Lesley Barber wowed audiences last year with her melancholy score for the Oscar winning film "Manchester By the Sea." Since then, it's been hard to not look back on her work and recognize her for the talented composer she is.
From theater to TV, Barber has dipped a toe into almost every facet of composing that one can imagine. After graduating the University of Toronto with a master's degree in music composition, she spent several years scoring plays before moving into film and television. Although Barber's score for the award winning "Manchester By the Sea" was considered ineligible by the academy for mixing pre-existing music in with her original scores for various scenes, it's her penchant for mixing the old with the new that intrigues us so much. The way she mixes the harmonies from the chorals she commissioned for the film and the string instruments is undeniably beautiful, and has become somewhat of a rarity in film composition today. Barber's most notable compositions include the children's series "Little Bear," "You Can Count on Me," "Mansfield Park," and "Hysterical Blindness." 
Cliff Martinez
Another rock musician-turned-composer, Martinez started off as the drummer for The Red Hot Chili Peppers but he is much better known for his film scores. However, they owe much to his roots in rock: Martinez's scores fuse percussion and synthesizers to ooze retro-futuristic vibes. His use of electronic dance music against gritty mise-en-scene is always a major selling point for any project with his name on it.
Martinez is best known for composing "Only God Forgives," "Drive," "The Neon Demon," "Spring Breakers," and "War Dogs." However, his credits stretch back as far as Steven Soderbergh's "Sex, Lies and Videotape" and he scored much of the director's definitive works. You can expect to hear more of Martinez's work in the upcoming Jackie Chan film, "The Foreigner," set for release in October of this year.
Mica Levi
At age 30, experimental indie musician Mica Levi is one of the most impressive young composers working in the film industry today. Born in London, Levi is classically trained and well-versed in singing, songwriting, and producing in addition to composing. So far, she has shown a penchant for engaging scores in tense, minimalist films — "Under the Skin," "Marjorie Prime" and "Jackie," which earned her an Oscar nomination. Levi's career is still in its early days, but she has already demonstrated that she's a master of the art form.
Carter Burwell
Best known for his evocative piano melodies, Burwell has an extensive film resume and even more award nominations. Credited on over 50 projects, he has earned himself 59 award nominations, including an Oscar nomination for best original score in "Carol," and 27 award wins.
Burwell has worked on numerous high profile films within the last 10 years, including three of the five films in the "Twilight" saga, "True Grit," "The Blind Side," and "Hail, Caesar!" He's particularly adroit at meshing paradoxical genres. The best example of his eclectic style is in "Fargo," where Burwell uses different traits from jazz, pop,  and classical to create a quirky mix for the classic crime drama. Burwell's upcoming projects include "Goodbye Christopher Robin" and "Bride of Frankenstein."