Shop for Instruments with Your Hands and Ears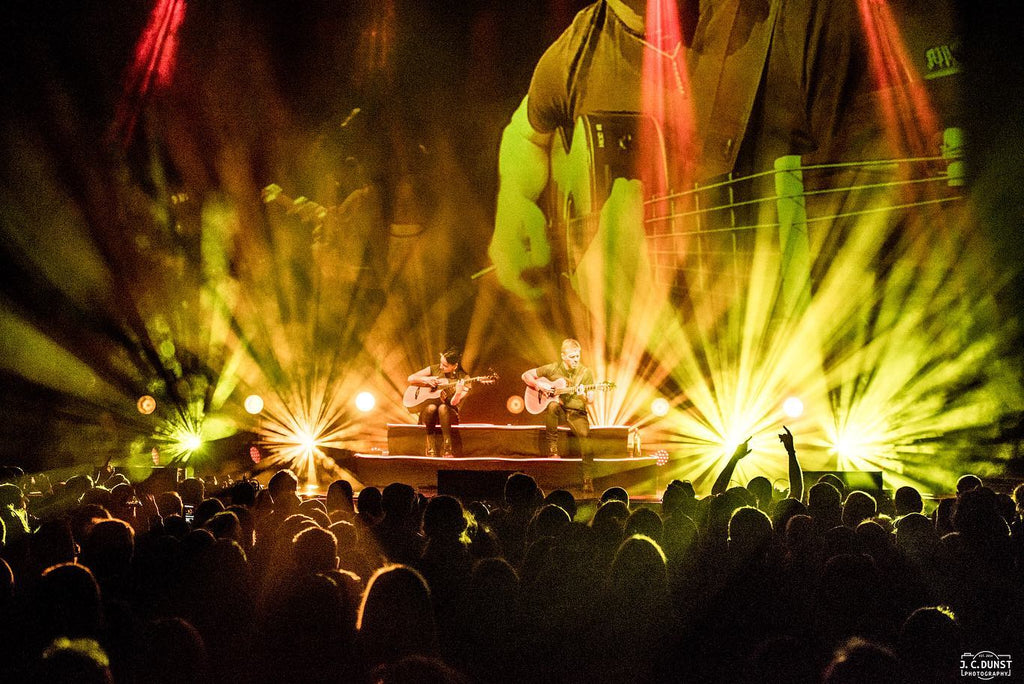 Rodrigo y Gabriela wouldn't be interesting if they hadn't dealt with weird
problems.  
If you don't know, Rodrigo y Gabriela are a duo of guitarists. They come
from Flamenco roots, and apparently grew up with acoustic guitars in their hands.
They were, at the same time, children of the 80's. Teenagers obsessed with
the guitar and living during the 80's had an inescapable epidemic facing them: speed metal.
While Rodrigo y Gabriela learned flamenco guitar from their grandfather, they listened to Metallica and Megadeth. They learned how to play fast music to
accompany fast dancing, and they wanted to be a metal band. The problem facing anyone who starts a metal band is the same. Metal drummers need a semi just for themselves.  That would be the problem if Rodrigo y Gabriela hadn't grown up in Mexico City. There is such a thing as a drum kit in Mexico City. I know that there is because I've listened to punk bands that came from Mexico City.
Rodrigo and Gabriela couldn't find one of those, apparently. Maybe they
didn't want to embarrass their family by bringing a lowly drummer to dinner or
something. I don't know.
So what were they going to do? It was a hard problem that faced them. They
lived in a space between two kinds of music that had very little in common at first
glance. Aside from a speed that could rival some drag racers.  Their solution came from the best place for solutions. Their solution came from handling their guitars.  See, if Rodrigo and Gabriela had come from a family with electric guitars,
they would never have been interesting, probably. They would have played speed
metal covers in a slightly Flamenco style. It would have been cool, but it wouldn't
have been magical.
It took a uniqueness in combining the two genres on acoustic guitar to create the unique experiment that became this odd duo.  Because drumming is an important part of speed metal, and they wanted to play covers of speed metal songs, they needed drums. They didn't have drums.
Here's a youtube video:  https://www.youtube.com/watch?v=4g-Z13qTcBA

What they did have was fast hands and hollow-bodied acoustic guitars. The technique they developed was to tap their guitars while playing to make
up for their drum shortage. Tapping the body of your guitar to make a sound isn't
unique to these cats. What's unique is the part where they're doing it while doing flamenco covers of speed metal songs. Their hands have been known to cause steam from the friction in the air.

It makes for a strange soup that's surprising and thrilling. It could only
happen from picking up their instruments and working with them. It was a problem
solved by touch and feel.