Recorders Galore - Just Arrived at Golden Music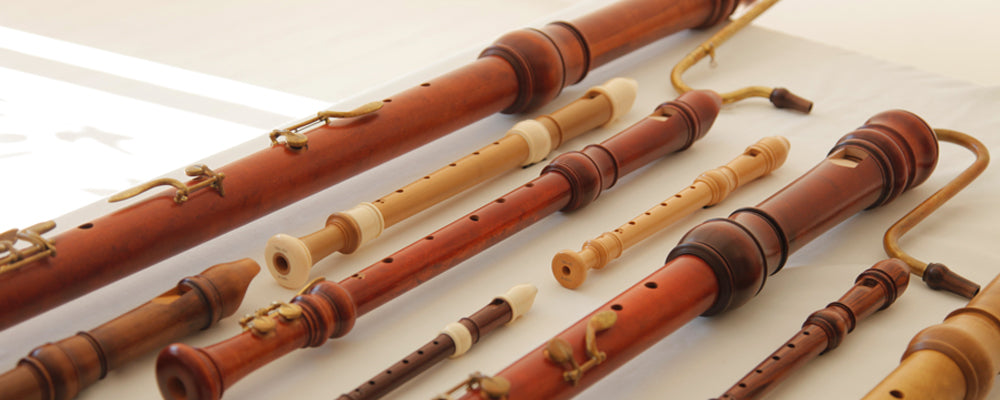 What are they made of?  Recorders are musical instruments that were originally made of wood, but today recorders made of resin are available.
Resin recorders are moderately priced and robust, with a solid sound and sensation during play.

They can also be washed with neutral detergent, and have the advantage of relatively straightforward maintenance, although water droplets can clog the windway (airway) because these instruments do not absorb moisture.
If this occurs, lightly tap just above the window, and blow forcefully to force out the droplets of water. If doing this during a performance, take care to ensure the sound of blowing cannot be heard. It is possible to dislodge and reduce moisture that has adhered to the inside of the instrument by sucking just a little.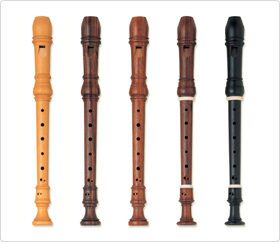 The ABS resin used for Yamaha resin recorders has a high ratio of butadiene, giving these instruments excellent impact resistance.
Their characteristic features include an exceptional wood-like feel during play, a clear timbre, and a perfect pitch, achieved by using the understanding developed through the manufacture of wooden recorders. With 444 Hz used as a reference pitch for A, the pitch can be tuned by adjusting the extension of the head joint, allowing the recorder to be tuned to participate in an ensemble with other musical instruments.
Wooden recorders have the timbre of rosewood, with emphasized gentle, sweet characteristics.  Ebony has a distinctive power and charm.
Kingswood has elegance and sweetness even amid its strength.
Castelo wood has a tone that expresses subtlety rather than strength.
Maple has a sweet, clear sound, with an exquisite harmony, prominent when playing within an ensemble.
This is to suggest that soft woods produce a soft sound, hard woods produce a hard sound, and that there is a broad expressive range in warm timbres.
However, they are expensive compared to resin recorders, and require intricate maintenance.
The distinctive, rich tone of a wooden recorder is not generally matched by a resin recorder, and in order to get the most enjoyment from performances it may be a good idea to consider using a wooden recorder.
Each has its own character, and the nature of the sound also varies, so if possible it is better to choose an instrument together with a specialist or music teacher who can demonstrate the sound of the instrument for you.