Need An Instrument - Not Much Time to Handle the Details?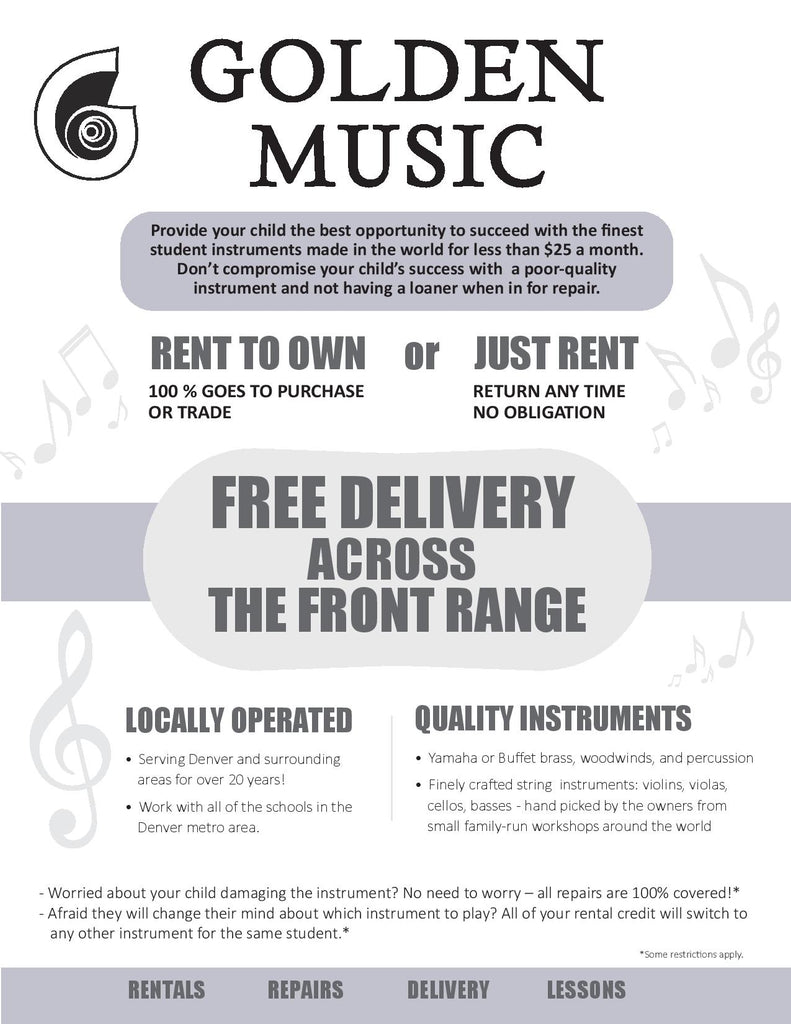 -I don't have time to research instruments or find out what's best.  I need this taken care of for me but I want to trust that my child is getting a good quality instrument and the things we need to give the best start to this endeavor...
Rent-to-Own with Golden Music has these time saving features:
1.   The best quality instrument - we take time to find the best instruments to offer.  This is our only desire, not the strongest bottom line and sliding in a lower quality instrument.  For band instruments, we only carry Yamaha and Buffet.  For strings, we hand select our workshops and it always ends up being family teams that are trained in the art of building violins, violas, cellos and basses.
2.  Easy to rent the instrument - you can phone us and have it delivered to your house or school.  We also have an online portal to rent and get delivery.  Our store hours are 8 am  to 8 pm Monday through Thursday and 10-5 on Friday, Saturday and Sunday.  
3.  Free delivery for any service you need for the rental - starting the agreement, ending it, a repair, or loaner or instrument change.  We come right to your house or school!   If your instrument needs to be serviced or maintained, just phone or email and we'll bring a loaner to you, fix yours and bring it back.
4.  As your student grows, all of the rent-to-own payments (100% always) goes toward the purchase.  You can buy the instrument for 30% discount off your remaining balance or move the credit to another band or orchestra instrument.  You don't need to spend time, nor will you lose credit if your child changes their mind (some restrictions apply).